With the end of summer imminent and the retailers stocking their shelves with sweaters, it's time to examine your wardrobe and see what new pieces you can re-purpose for fall. One of the greatest things about runway fashion is that they show collections a few seasons ahead of time, so you can start collecting your favorite pieces.
We've been eyeing what will be on the racks for Fall 15 — and we found a unique set of decor ideas from high fashion looks that will work at home:
1. Plaids and Tartan Prints
While plaids may not seem too original as a fall fashion trend, the creative applications for home decor are endless — pillows, curtains, wallpaper –even plates! What sums up this trend? cozy does it.
2. Brooding Blooms
These posies are a far cry from the color infused spring prints we saw earlier this year, but they're still elegant and feminine.
Instead, they're set on darker backgrounds (think: teal, black, and brown) with white and grey floral combos. Danish fashion label Ganni  (see right) is a close match for the wallpaper chosen by Charles Neal Interiors for the old Hollywood glam bathroom below.
3. Victorian Victories
Instead of #ThrowbackThursday, try going back a few centuries. High fashion went super vintage for fall 2015 in apprecaition of Victorian era style – lacy, high collared, and jeweled pieced ruled, but with added twists. Get the same effect by adding Victorian style molding and frames to your ceiling  to get that chandelier statement you've always wanted.
4. Moroccan Inspired Modernity
This is a wallpaper trend that's not losing traction any time soon. In fact, it looks like the fashion world may have taken their inspiration from the home decor realm. Designers like Tory Burch borrowed prints from Moroccan rugs and tiles to create more subdued fall 2015 looks.

5. Chinoiserie Chic
From dragons in fiery red to lacy accents and silky printed fabrics, designers like Michael Kors, Tom Ford, and Oscar de la Renta owned the chinoiserie trend. Eastern inspired scenes cropped up on walls and wallpaper all over Houzz, as chinoiserie became one chic again.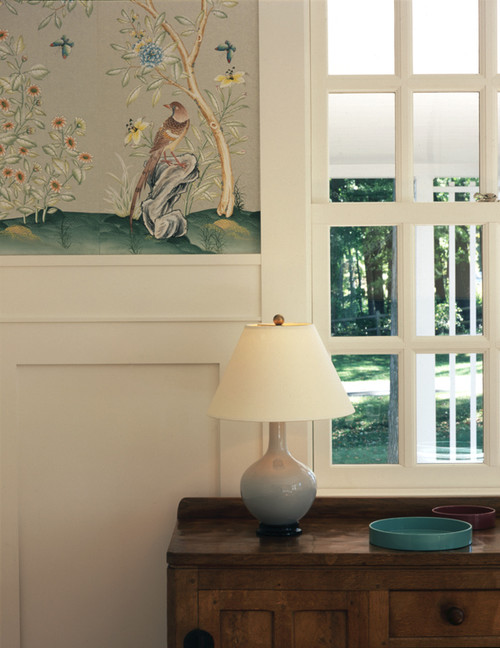 Were you inspired by Fall 2015 fashion? If you have fabric prints or textures that you can't live without, send them our way and we can help you Create Your Own wallpaper to match!